Museum Address
Dr NTR Beach Rd, opposite Palm Beach Hotel, Dutch Layout, Kirlampudi Layout, Chinna Waltair, Pedda Waltair, Visakhapatnam, Andhra Pradesh, 530017
Museum website
https://visakhapatnam.ap.gov.in/museums/
When was the museum established?
1991
Briefly describe the history of the museum, its collection and donors.
The Visakhapatnam Municipal Corporation Museum, also known as Visakha Museum, is one of the three museums that flank Beach Road (the other two being INS Kurusura Museum and TU 142M Aircraft Museum). Established in 1991 and maintained by the State Government, the building used to be a Dutch bungalow before it was repurposed into a museum.
The displays at Visakha Museum range from musical instruments, historical paintings and obsolete objects to military artefacts, allowing visitors to engage with an eclectic collection. Some of the key items of interest include - 
The shell of an unexploded bomb from World War II;
The shell of a coconut broken by Jawaharlal Nehru at the launch of the ship S.S. Jala Usha (the first steamer manufactured in India after Independence by the Scindia Steam Navigation Company)
The desk used by Mahatma Gandhi and later by Sri Tenneti Viswanadham. 
Their collection also has an archive of old photographs. The museum also regularly holds art shows, art camps and photo exhibitions.
Who manages the museum?
State Government
Person-in-charge of the museum
Curator
Reference Link
https://vizagtourism.org.in/visakha-museum-vizag
Is the museum currently closed?
No
Image for museum exterior/building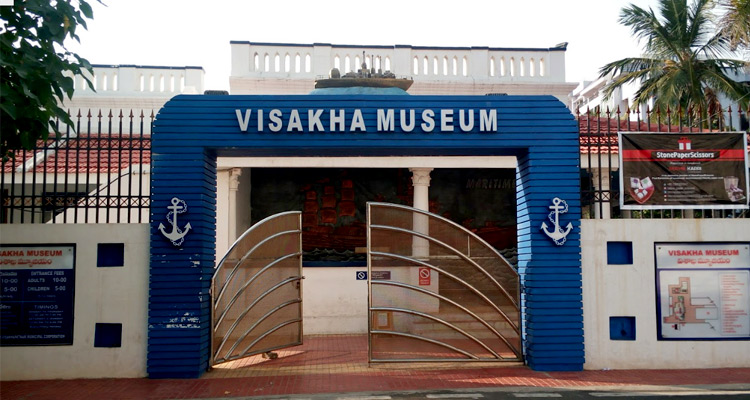 Entry fee information
Adults : Rs. 10; Children: Rs 5
Opening Days
Sunday
Monday
Tuesday
Wednesday
Thursday
Saturday
Other Information
Open 12PM to 8PM on Sundays
Name of Museum Surveyor
Anna Dasgupta