Museum Address
No. 3129, opposite Choora Paada
Museum website
http://www.patwahaveli.com/
Briefly describe the history of the museum, its collection and donors.
Built in the first half of the 19th century, Patwon ki Haveli is a cluster of five havelis (mansions) in the heart of Jaisalmer. These havelis were built by one of the city's prosperous merchant Guman Singh Patwa. The grandly constructed residences fell into disrepair as Guman Singh's wealth dwindled, till they were taken over by the Archaeological Survey of India in 1974 and restored to their present condition. The main haveli known as Kothari's Patwa Haveli has been turned into a museum famous for its architecture, interiors, and artefacts depicting the lifestyle and heritage of Jaisalmer's merchants.
Apart from being a fine example of traditional Rajasthani Architecture, Patwon ki Haveli is also considered to be the first grand haveli commissioned in Jaisalmer. Constructed chiefly of yellow sandstone, the havelis rise up to multiple stories with latticed carvings and around sixty balconies or jharokhas. Each haveli consists of a courtyard surrounded by several rooms and arched doors and windows.
The Kothari's Patwa Haveli museum displays living quarters and elaborate rooms with walls adorned with murals and mirror work. Portions of the residence such as the dining room, dressing room, and main sitting room have been displayed to give visitors an insight into the day to day functioning of the Patwa household. Musical instruments such as a Sitar, board games, a chessboard and other artefacts from the 19th century are displayed in the main sitting room area of the haveli. Large pots can be found on display in rooms which were previously used as kitchens. Apart from this, the museum also displays a collection of turbans. Visitors can also witness hidden safes used by Rajasthani merchants in the 19th century as there are several niches hidden behind paintings and murals in each haveli where precious items and money were hidden earlier. Due to their elevated height, the vast terraces of the haveli cluster give a panoramic view of Jaisalmer and overlook the royal fort. 
This content has been created as part of a project partnered with Royal Rajasthan Foundation, the social impact arm of Rajasthan Royals, to document the cultural heritage of the state of Rajasthan.  
Workshops/seminars/lectures
No
Conference/ Seminar hall
No
Who manages the museum?
Private Organization
Reference Link
http://www.patwahaveli.com/museum.asp, https://thrillingtravel.in/patwon-ki-haveli-jaisalmer-rajasthan.html, https://thirdeyetraveller.com/patwon-ki-haveli-patwa-kotharis-museum/
What is the average duration to see the museum?
1-2 hours
Image for museum exterior/building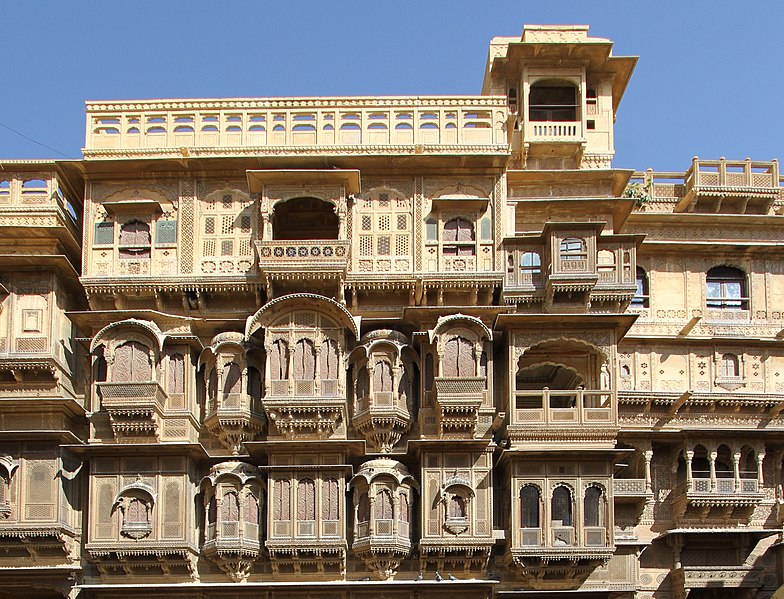 Gallery Images
Image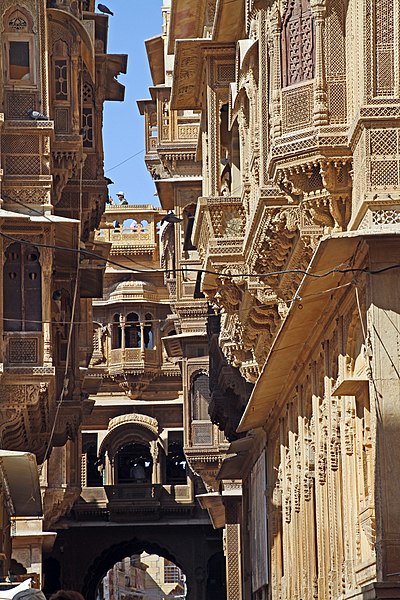 Image title
Patwon Ki Haveli l Wikimedia Commons
Image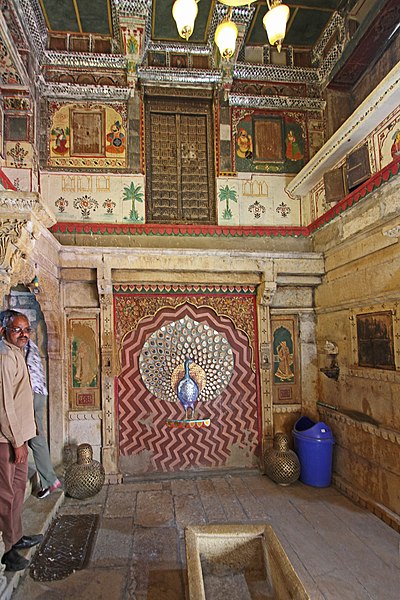 Image title
Mural and mirrorwork on display l Wikimedia Commons
Image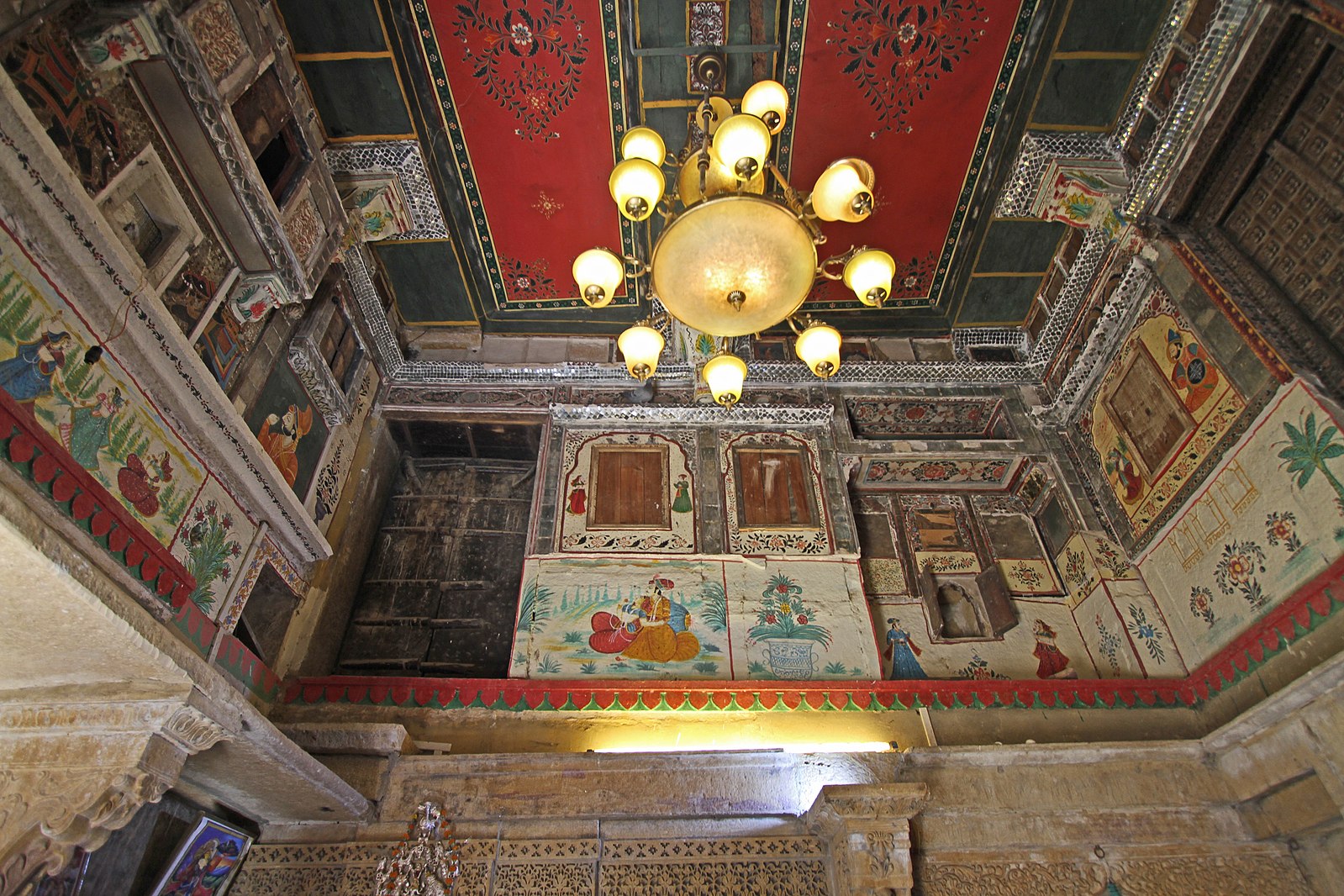 Image title
Murals on display l Wikimedia Commons
Image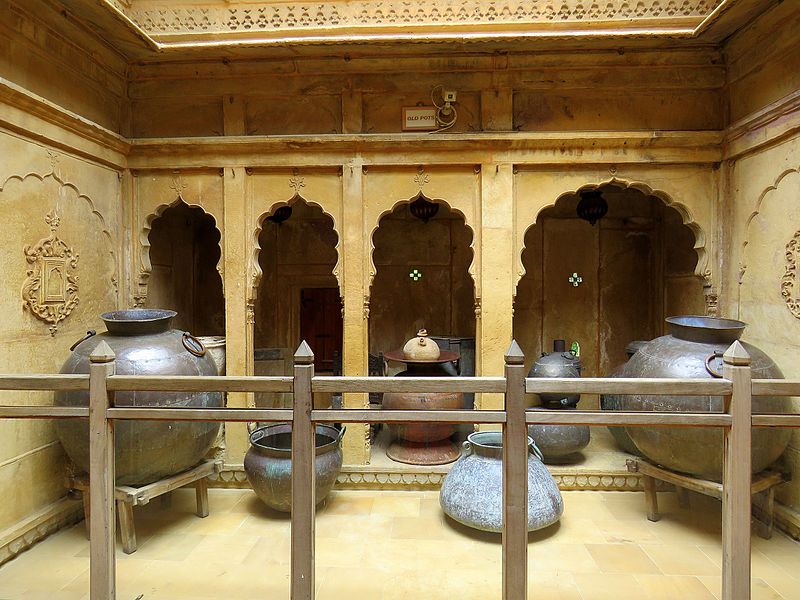 Image title
Large pots on display l Wikimedia Commons
Entry fee information
Indian National: Rs 20
Foreign National: Rs 100

Opening Days
Sunday
Monday
Tuesday
Wednesday
Thursday
Friday
Saturday
Interesting things about the Museum
1. Patwon Ki Haveli was built to suit Jaisalmer's hot climate and hence possesses over 60 balconies which regulate the airflow and keep the structure cool throughout the year.
2. It was supposedly the second haveli to be commissioned in Rajasthan and the first haveli to be built in Jaisalmer. It was planned in 1805 and took 55 years to complete.
3. The museum attempts to recreate the contents of some of the haveli's rooms and hence the dining area and dressing rooms have been furnished in 19th-century style.

Name of Museum Surveyor
Ashi Datta