Museum Address
Purani Haveli - 5000002
Museum website
http://www.hehnmh.com/
Are there any docents or guides who visitors can directly call to book for a guided tour?
Yes
When was the museum established?
2000
Briefly describe the history of the museum, its collection and donors.
Nizam's Museum or H.E.H Nizam's Museum is a museum located in Hyderabad at Purani Haveli, a palace of the erstwhile Nizams. This museum showcases the souvenirs, gifts and mementos that the last Nizam of Hyderabad state, Osman Ali Khan, Asaf Jah VII received on his silver jubilee celebrations. (Source: Wikipedia)
Boasting of a rich collection of memoirs, gifts, souvenirs from all over the world, it was created on the wish of last and the seventh Nizam, Asaf Jah VII, the museum showcases a glimpse into the lives of Nizams, who have ruled the city from 19th to 20th century, initiating a high rate of development.
In 1936, to mark the completion of 25 years reign of the seventh Nizam, various silver jubilee celebrations were organized. To celebrate this event, a special Jubilee Pavilion Hall was constructed at the Public Gardens (Bagh-e-aam) Hyderabad . During this celebration, Nizam has received gifts comprising of mementos, models and presentations, which constitute a larger portion of the items displayed at the Nizam Museum. Along with these, other gifts, which he had received from his well-wishers over the years, have also been kept for display.
He also made the trust Nizam's Jubilee Pavilion Trust, to take care of the museum and the items, which have been showcased. The museum was open for public in the year of 2000 and since then it has been one of the most popular tourist spots in Hyderabad.
Nizam Museum is consisted of a wide range of rare souvenirs and exquisitely designed mementos. The major attraction here is the golden, wooden throne, which was used during the silver jubilee celebrations of the Last Nizam. There is also a gold model of the pavilion. Diamond inlaid gold Tiffin-box, paintings of Mir Osman Ali Khan, wooden writing box covered with mother-of-pearl, daggers studded with diamond and gold, caskets, etc., are a few popular items on display. An intricately designed silver perfume bottle, a gift from the Raja of Palvancha is also an admirable piece of art. For car lovers, there are vintage cars such as 1930 Rolls Royce, Packard and a Jaguar Mark V on display.
About 200-year-old proclamation drums and a manually operated lift that is more than 150 years old, are a few other features of the Nizam Museum that are sure to attract you.
Another prominent feature is the wardrobe of sixth Nizam of Hyderabad, Mir Mahbub Ali Khan. The wardrobe, an entity in itself, is 176 feet long and has two levels. It is made up of Burma teak, one of the finest. The sixth Nizam, is said to have never repeated his clothes, which were given to others after being worn once by him. Hence, a section has been recreated based on his various photographs and accounts of his costumes. In another section of the wardrobe, costumes of other men, women and children of Hyderabad have been highlighted. (Source: https://www.hyderabadtourism.travel)
Information in Braille
No
Workshops/seminars/lectures
No
Library and archives services
No
IT facilities ( Photocopying, printing, computer )
No
Any other facilities
Temporary exhibitions are held regularly, which are announced in the local media.
Conference/ Seminar hall
No
Who manages the museum?
Private Organization
Person-in-charge of the museum
Director
Reference Link
https://www.hyderabadtourism.travel/nizam-museum-hyderabad
What is the average duration to see the museum?
1-2 hours
Map your museum's correct location on the map given below.
Is the museum currently closed?
No
Image for museum exterior/building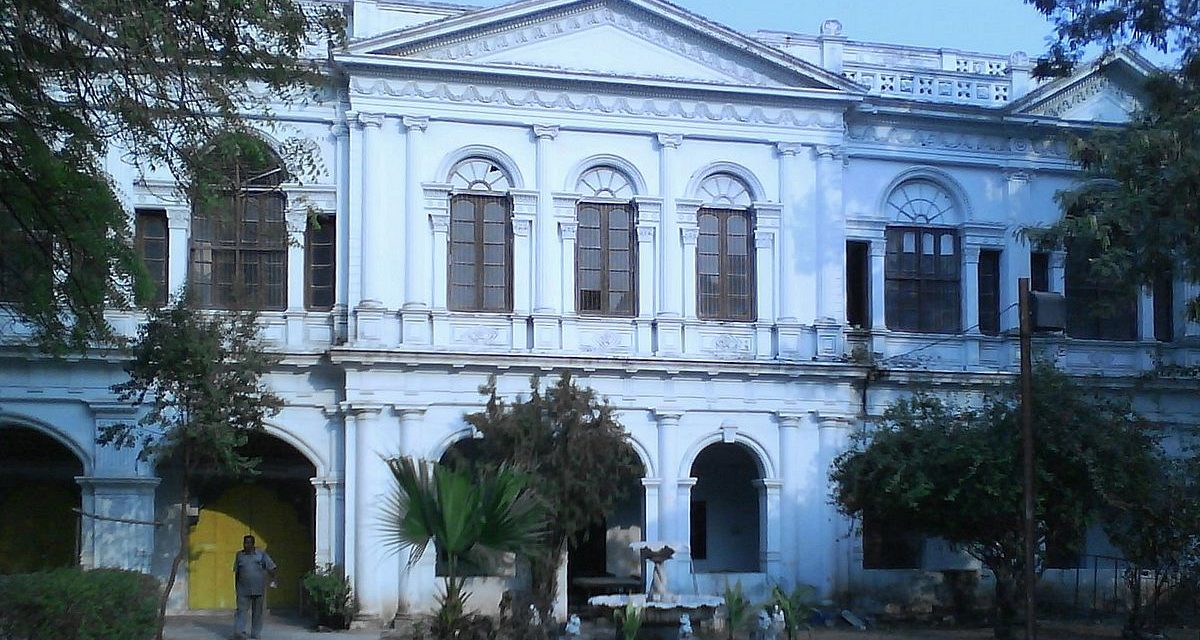 Gallery Images
Image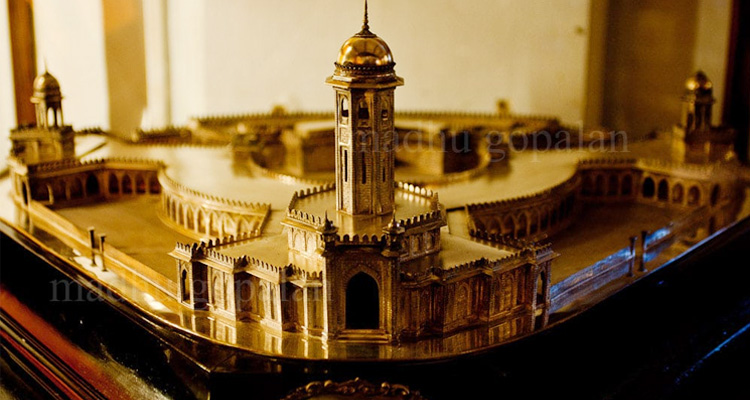 Image title
Silver model of the Muzzam Jahi Market Presented by the city improvement board 10th Jan 1935
Image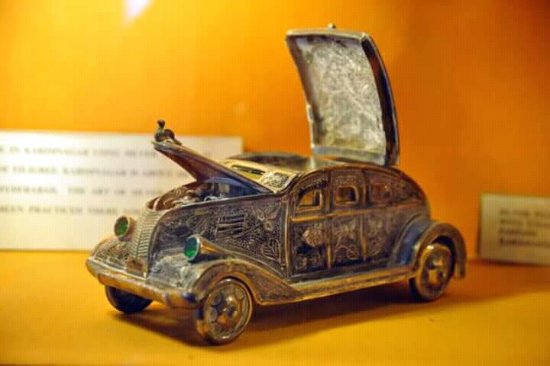 Image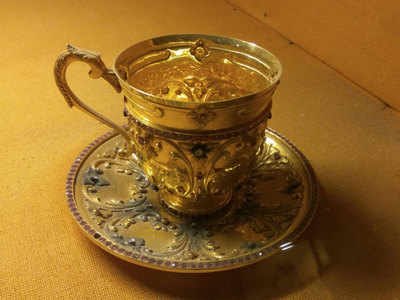 Image title
Nizam's golden teacup that was stolen and recovered in September 2018
Entry fee information
Adults: ₹100
Children: ₹15
Mobile/Still Camera: ₹150
Video Camera: ₹500

Getting there
Nearest bus stops: Darulshifa bus no. 72, 78 277-V; Tribunal Court bus no. 78, 277-V, IT; Dabeerpura bus no. 114-D.
Opening Days
Sunday
Monday
Tuesday
Wednesday
Thursday
Saturday