Museum Address
Government Central Museum, Department of Archaeology and Museums,
Albert Hall, Department of Archaeology and Museums
Ramniwas Bagh
Email
albert.museumjaipur@gmail.com
Museum website
alberthalljaipur.gov.in
Are there any docents or guides who visitors can directly call to book for a guided tour?
Yes
When was the museum established?
1887
Briefly describe the history of the museum, its collection and donors.
The museum is housed inside the Albert Hall's complex. The foundation of Albert Hall was laid by the Prince of Wales, Albert Edward in 1876. The building was completed in the year 1887 by the architect, Samuel Swinton Jacob. The museum collection is spread across ground and first floor and is divided under fifteen categories namely metal art, pottery, jewellery, garments & textiles, arms & armour, miniature paintings, musical instruments, clay art, sculptures, marble art, furniture & wooden art, carpet, international art, ivory, and coins. 
Metal art collection includes everyday utility objects from the 19th century. The collection of arms and armour include swords, hilts, tiger knives, helmets, javelins, bows and arrows. 4th to 10th century sculptures including Shiva, Bodhisatva, Ravananugrah Murthi are on display on the ground floor. The jewellery gallery contains ornaments worn by peasants as well as the elites in the 19th century Jaipur; garments and textile gallery houses old sanganeri prints, kotadoria, bandhish work, gota work, embroidery, and lace. The Egyptian mummy from  322-30 B.C., Pharaonic antiquities from 11th-1st century B.C are part of the international art collection. The vintage pottery masterpieces from Britain, Iran, Turkey, and Japan are part of the pottery collection. Marble art gallery includes sculptures carved by Jaipur artisans during the 19th century. The carpet collection displays carpets also from the 19th century.
In addition to the galleries, Albert Hall museum has a library, a library and an archive section and a cafe.
Information in Braille
No
Workshops/seminars/lectures
No
Library and archives services
Yes
IT facilities ( Photocopying, printing, computer )
No
Conference/ Seminar hall
No
Who manages the museum?
State Government
Person-in-charge of the museum
Director
Additional information ( if any)
The museum is closed on Dhulandi (Holi) and all maintenance days.
From October to March, last Tuesday of every month is maintenance day; and from April to September every Monday is maintenance day.
What is the average duration to see the museum?
1-2 hours
Map your museum's correct location on the map given below.
Is the museum currently closed?
No
Image for museum exterior/building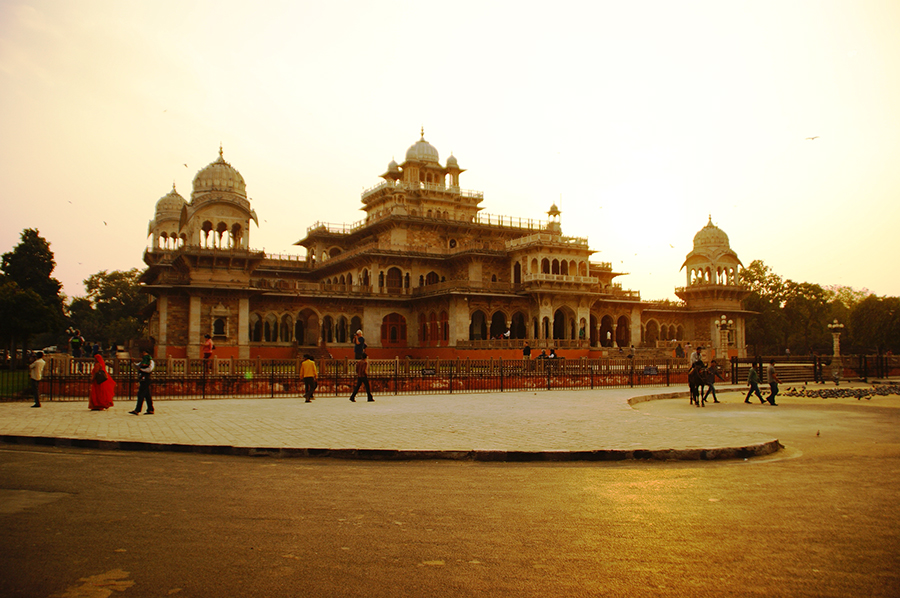 Gallery Images
Image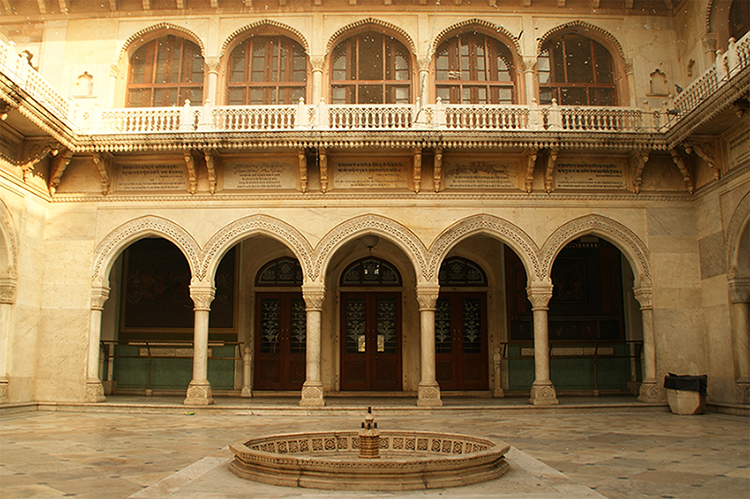 Image title
Courtyard view of the museum 
Image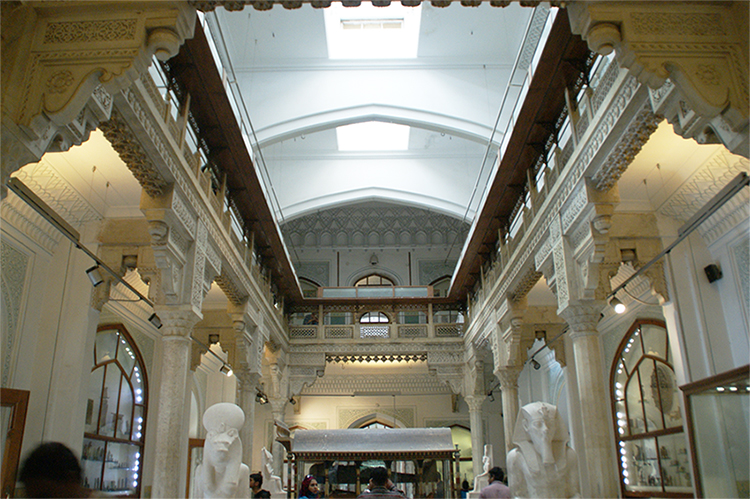 Image title
Interior view of the museum 
Image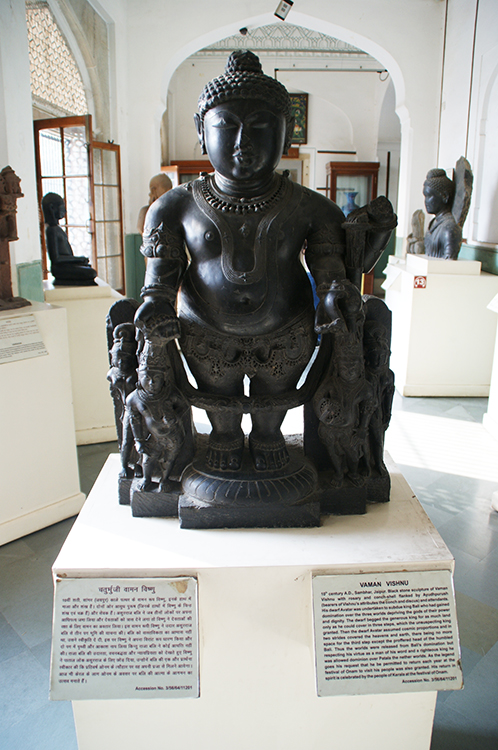 Description of the Image
Black stone sculpture of Vaman Vishnu with rosary and conch-shell flanked by Ayudhpurush (bearers of Vishnu's attributes the conch and discus) and attendants. His dwarf Avatar was undertaken to subdue king Bali who had gained domination over the three worlds depriving the gods of their power and dignity. The dwarf begged the generous king for as much land only as he could cover in three steps, which the unsuspecting king granted. Then the dwarf Avatar assumed cosmic proportions and in two strides covered the heaven and earth, there being no more space for the third step except the proffered head of the humbled Bali. Thus the worlds were released from Bali's domination but respecting his virtue as a man of his word and a righteous king he was allowed dominion over Patala the nether worlds. As the legend goes his request that he be permitted to return each year at the festival of Onam to visit his people was also granted. His return in spirit is celebrated by the people of Kerala at the festival of Onam.
Image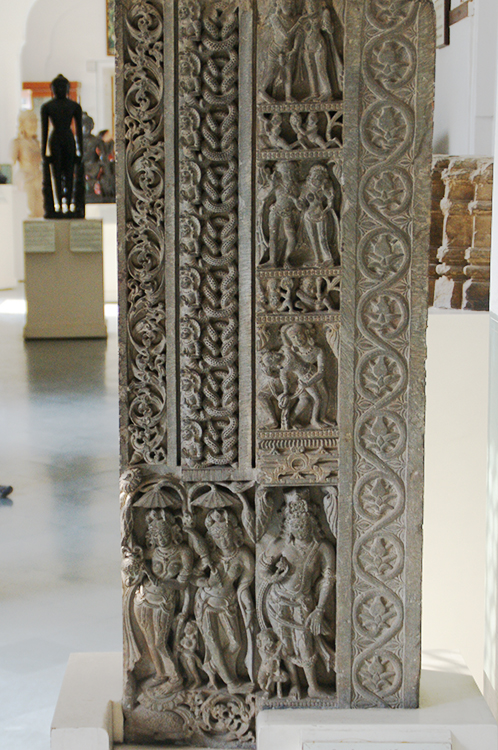 Description of the Image
Stone temple door jamb with three columns containing patterns of flowers, serpent deities and panels of Gandharvas, celestial beings, in erotic postures. The lower portions show the Goddess Ganga astride her crocodile vehicle with attendants. According to Brihatsamhita texts, door jambs should invariably depict in the lower portion, river goddesses Ganga or Yamuna with attendants carrying the attributes of the main deity of the temple. The river goddesses purify the temple precincts and the devotees entering to worship by destroying their sins. The remaining portion of the door jamb were to be decorated with patterns of flowers, serpents, pots with sacred coconuts, erotic themes, dwarfs, lions and elephants, lotus and conch-shells.
Image title
Right temple door jamb
Year
10th-11th century A.D.
Image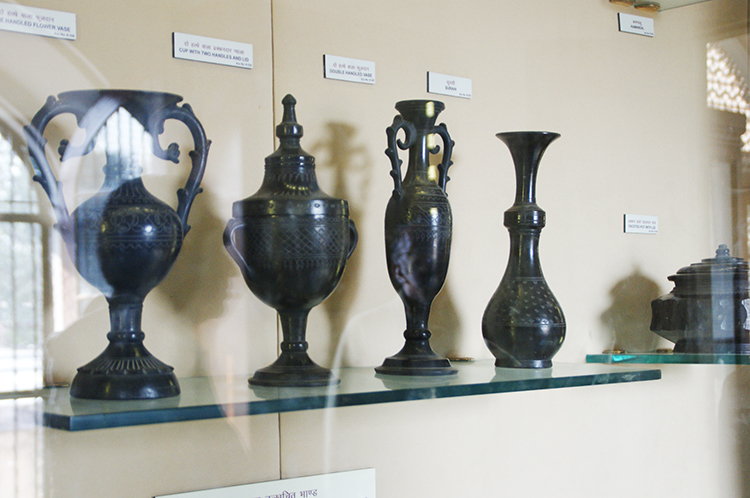 Description of the Image
Bengal's low lying landscape is sustained by its water channels and alluvial soil that is a rich source of clay. It is clay rather than stone which is the indigenous material of the area; clay has been the medium through which Bengali culture has expressed itself for thousands of years through both fired and unfired techniques. The wheel is used for most of the vessels. Unusual faceting of a lidded bowl is one of the prize objects in this group. Intricate raised tendril like modelling is also a special characteristic of this group showing skilled workmanship and a decorative tradition of modelling. Slip is applied and burnished to give a shiny and waterproof surface after firing.
Image title
Bengal carved pottery
Image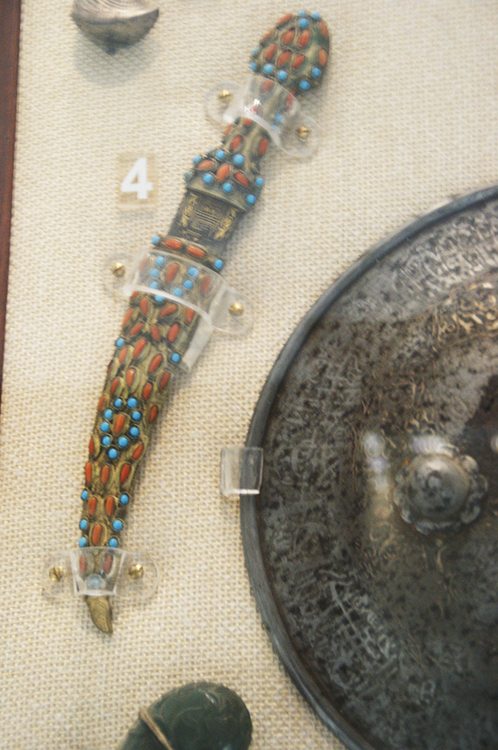 Description of the Image
An ornamental knife and its blade has single side edge with pointed tip. Koft work is present on the blade near the hilt. Hilt is highly decorated with coral and turquoise at one side. Back side has floral decoration as relief. Scabbard is also decorated in the same manner where one side is decorated with coral and turquoise and other side with relief.
Image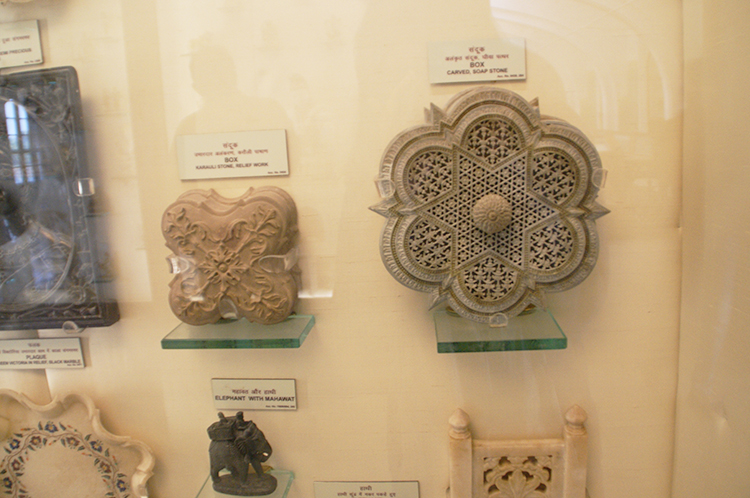 Description of the Image
A hexagonal, flat, carved, perforated box made of soap stone. It is supported on six legs. Floral and geometrical patterns can be seen on it. It has a cover having a domical shaped knob, from Agra.
Image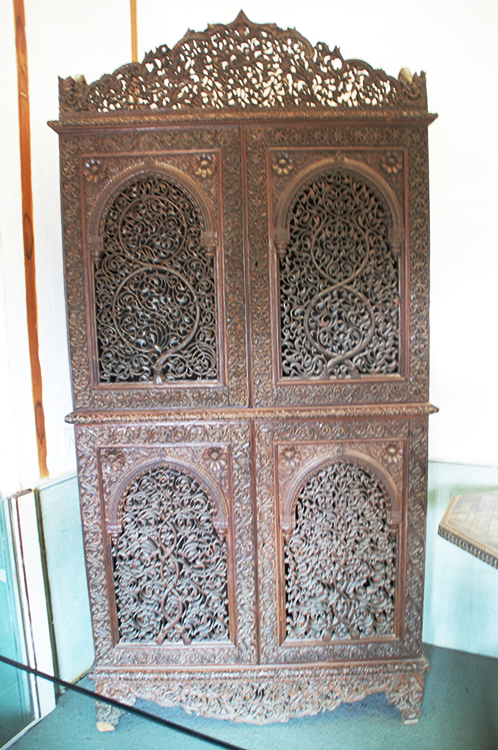 Description of the Image
Front part of Almirah with carved floral design in arch pattern. It has perforations in the centre.
Image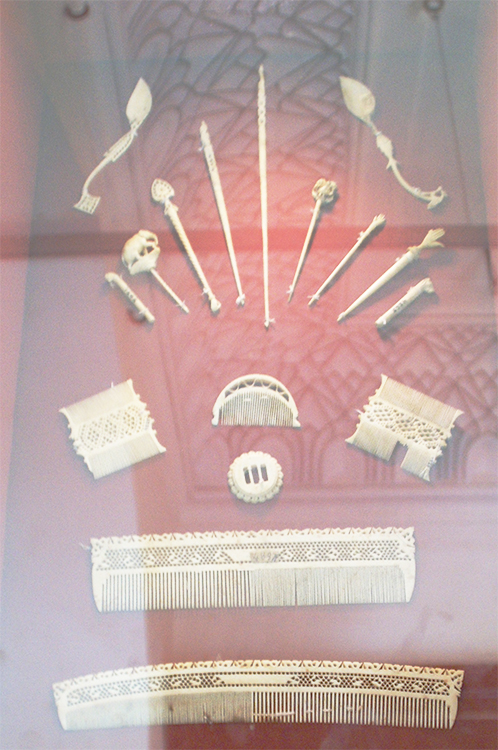 Description of the Image
A hairpin with carved handle with three swans, from Burma.
Image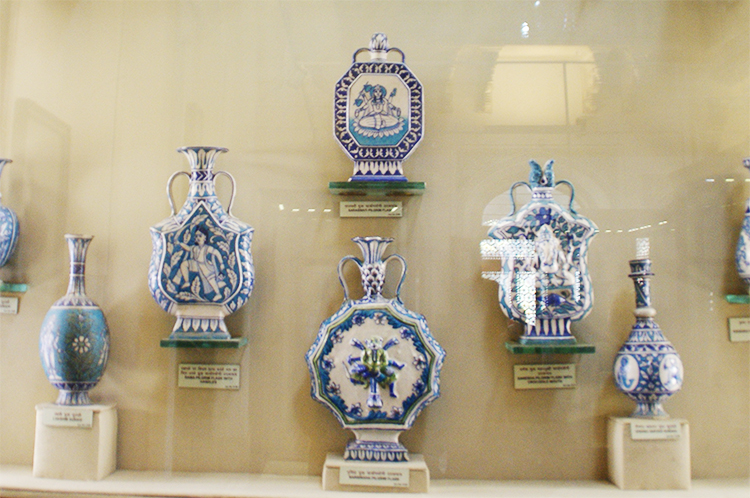 Description of the Image
White quartz clay 'Pilgrim Flask' showing Narsimha Avatar. Neck is shaped like a pineapple. Cobalt blue,  copper blue and green shading on white ground under transparent glaze, Jaipur School of Art, Jaipur.
Image title
Jaipur Blue Pilgrim Flask
Entry fee information
General Entry Ticket:
₹ 40 for Indian Visitor
₹ 20 for Indian Student
₹ 300 for Overseas Visitor
₹ 150 for Overseas Student

Night Visit Entry Ticket
₹ 100 for Indian Visitor
₹ 100 for Indian Student
₹ 100 for Overseas Visitor
₹ 100 for Overseas Student

Free entry for children below the age of 7
Entry for Student groups shall be free every day between 10:00 to 12:00 am on the recommendation of their respective Institute
Entry of visitors is free on Rajasthan Day, World Heritage Day, World Museum Day, and World Tourism Day.
Opening Days
Sunday
Monday
Tuesday
Wednesday
Thursday
Friday
Saturday
Public holidays
Other Information
The night museum timings are from 19:00 to 22:00.