Museum Address
Amrapali Museum, K-14/B, Ashok Marg, C-Scheme, Jaipur, 302001, Rajasthan.
Email
info@amrapalimuseum.com
Museum website
https://www.amrapalimuseum.com/
Are there any docents or guides who visitors can directly call to book for a guided tour?
Yes
Email
surbhimathur@amrapalijewels.com
When was the museum established?
2018
Briefly describe the history of the museum, its collection and donors.
Amrapali Museum, located in the city of Jaipur, is dedicated to Indian jewellery and jewelled objects. An initiative by the founders of Amrapali Jewels Pvt. Ltd.—Rajiv Arora and Rajesh Ajmera—the collection is a labour of love that began nearly forty years ago when they became friends at college, and one that continues to this day.
The museum is spread over two floors. The ground floor houses silver and gold jewellery from virtually every region of India; with a special focus on pieces that are connected with rites of passage, from birth to death. The basement houses a collection of artefacts that have inspired Indian craftsmen throughout history, including a range of silver objects and jewellery. The museum's collection is made up of over 4000 pieces, of which around 800 are on display; the rest can be accessed in the Visual Storage section.
Some stunning pieces on display at the museum include a gem-studded back scratcher that conceals two sharp daggers, a chariot entirely covered in silver, a cascade of gold that adorns a woman's braid, a king's sceptre with a majestic elephant's head, gold-plated shoes studded with precious stones, and many more.
For guests visiting India from foreign shores, the museum offers a fascinating testimony to India's craftsmanship. Jewellery for every part of the human form, jewelled artefacts from every corner of India, heirloom textiles embellished with gold and silver, and much more, can be found on display.
Visitors can also shop for handcrafted fine and silver jewellery—and objects similar to those on display at the museum—from an extensive range of pieces available at the Museum Shop.
Information in Braille
No
Workshops/seminars/lectures
No
Library and archives services
No
IT facilities ( Photocopying, printing, computer )
No
Conference/ Seminar hall
No
Who manages the museum?
Private Organization
Email
surbhimathur@amrapalijewels.com
Person-in-charge of the museum
Other
Additional information ( if any)
The Audio Guide is included in the entry fee.
Reference Link
https://www.amrapalimuseum.com/
What is the average duration to see the museum?
less than 1 hour
Map your museum's correct location on the map given below.
Is the museum currently closed?
No
Image for museum exterior/building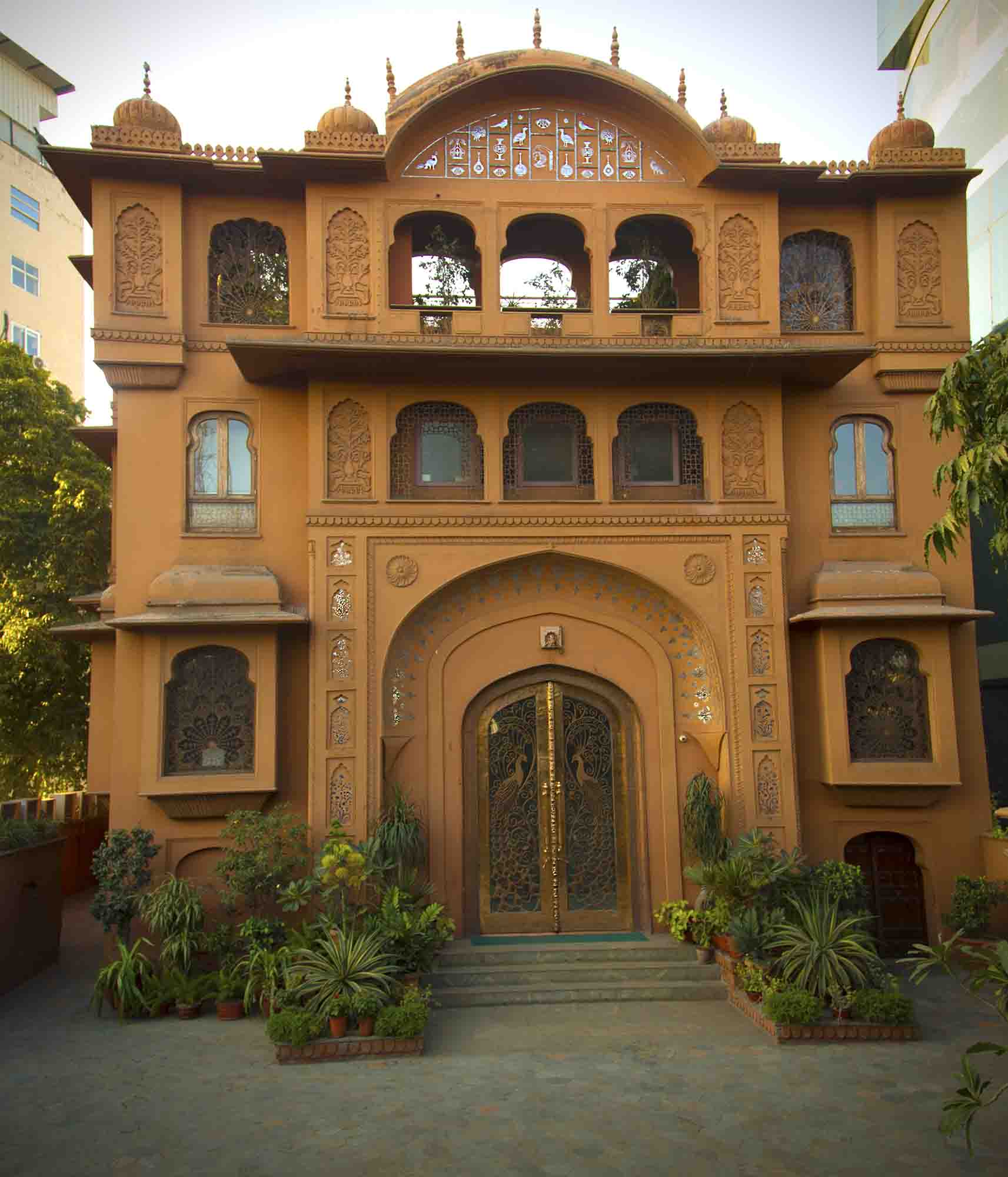 Gallery Images
Image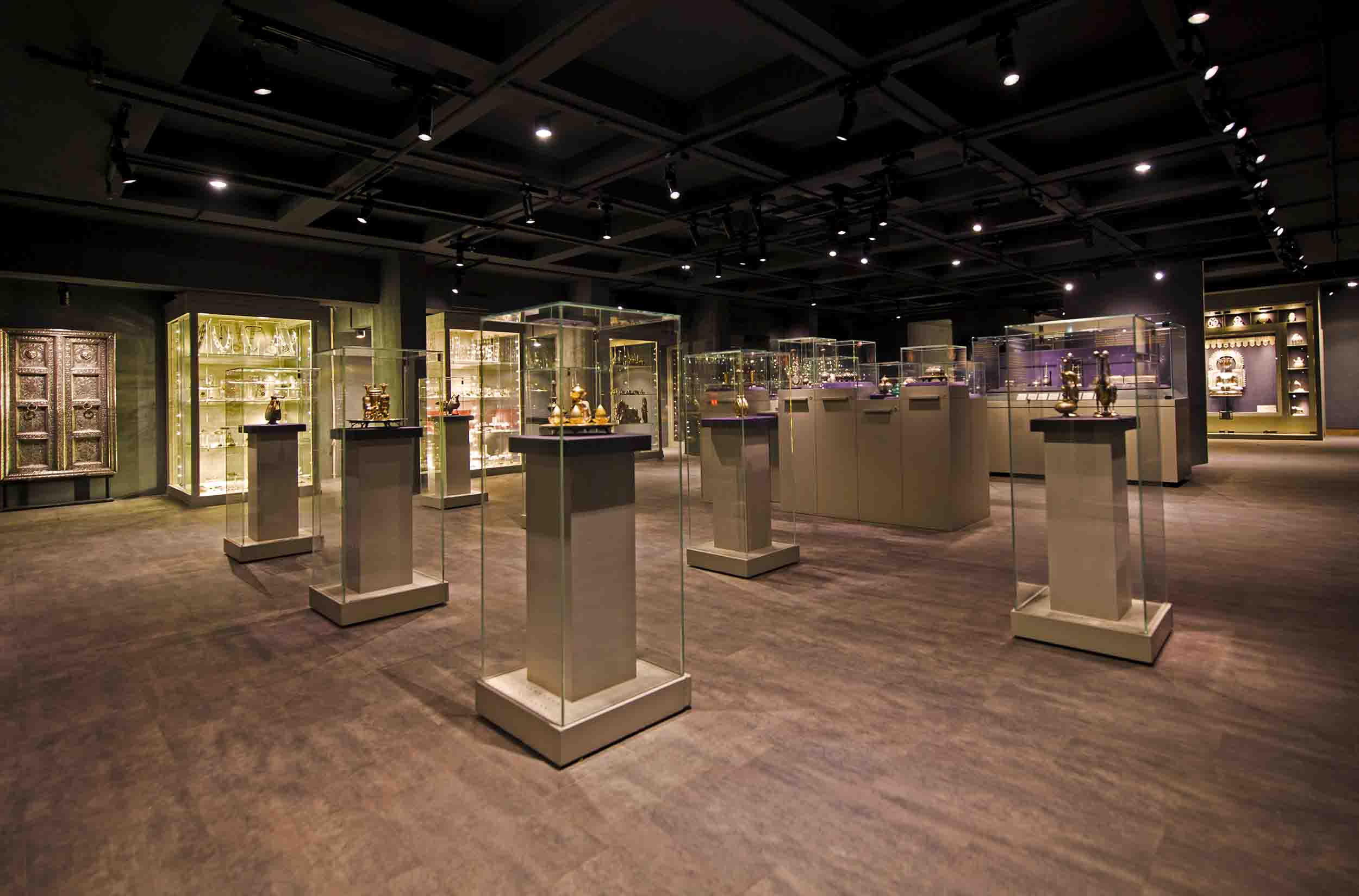 Image title
Musuem Interior (Basement)
Image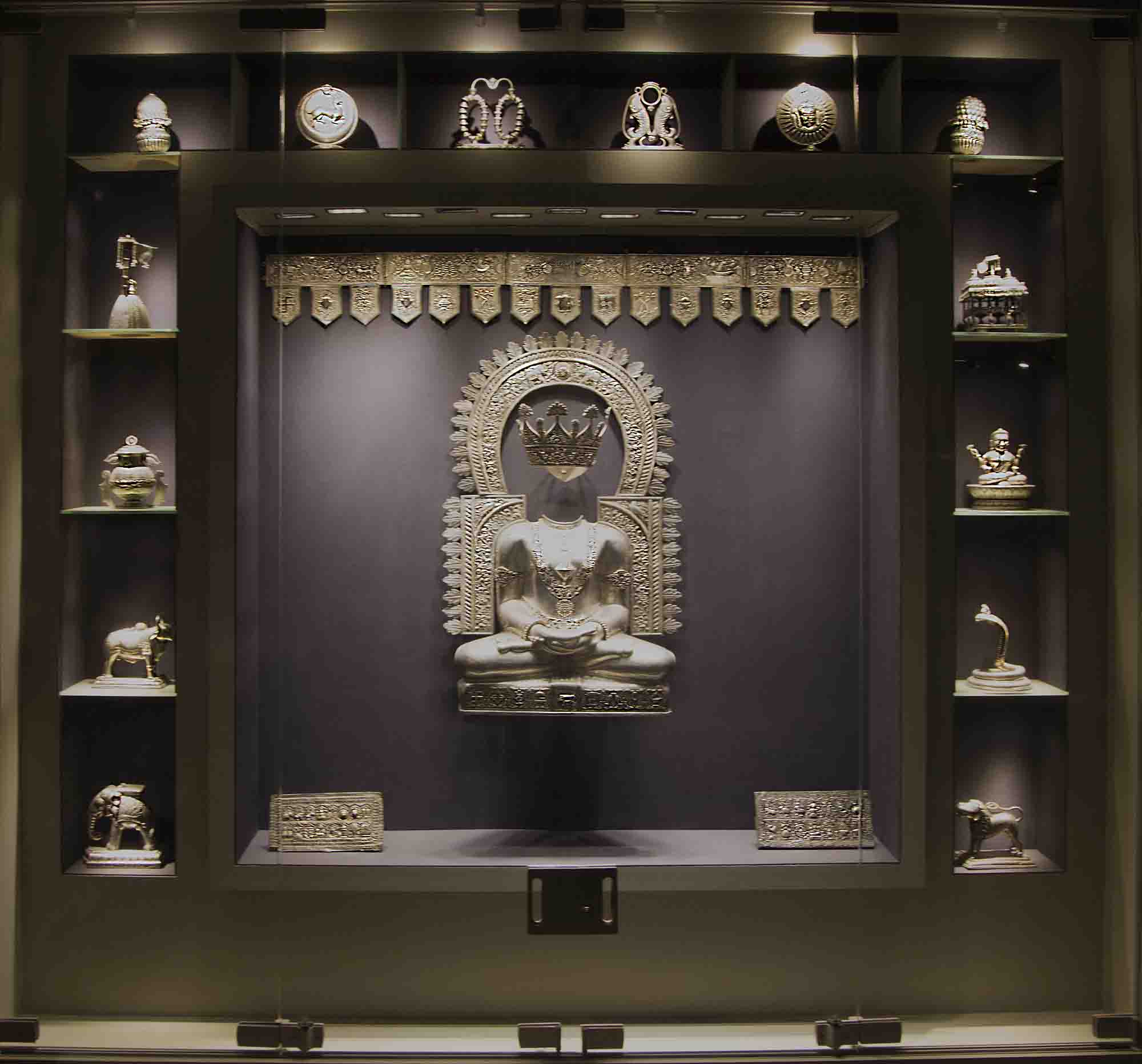 Description of the Image
'Angiyan': Outer covering for the 11th Jain Tirthankara, Shreyansanatha, with an emblem of a rhinoceros in the centre of the plinth.
According to Jain scriptures,  Queen Trishala, Mother of Mahavira, had 16 dreams after the conception of her son. Scholars say that these dreams meant that the child would be born strong, courageous and full of virtue. 
These are representations of 14 dreams out of the 16. 
Image title
'Angiyan': Outer covering for the 11th Jain Tirthankara, along with the 14 Dreams of Mother Trishala
Image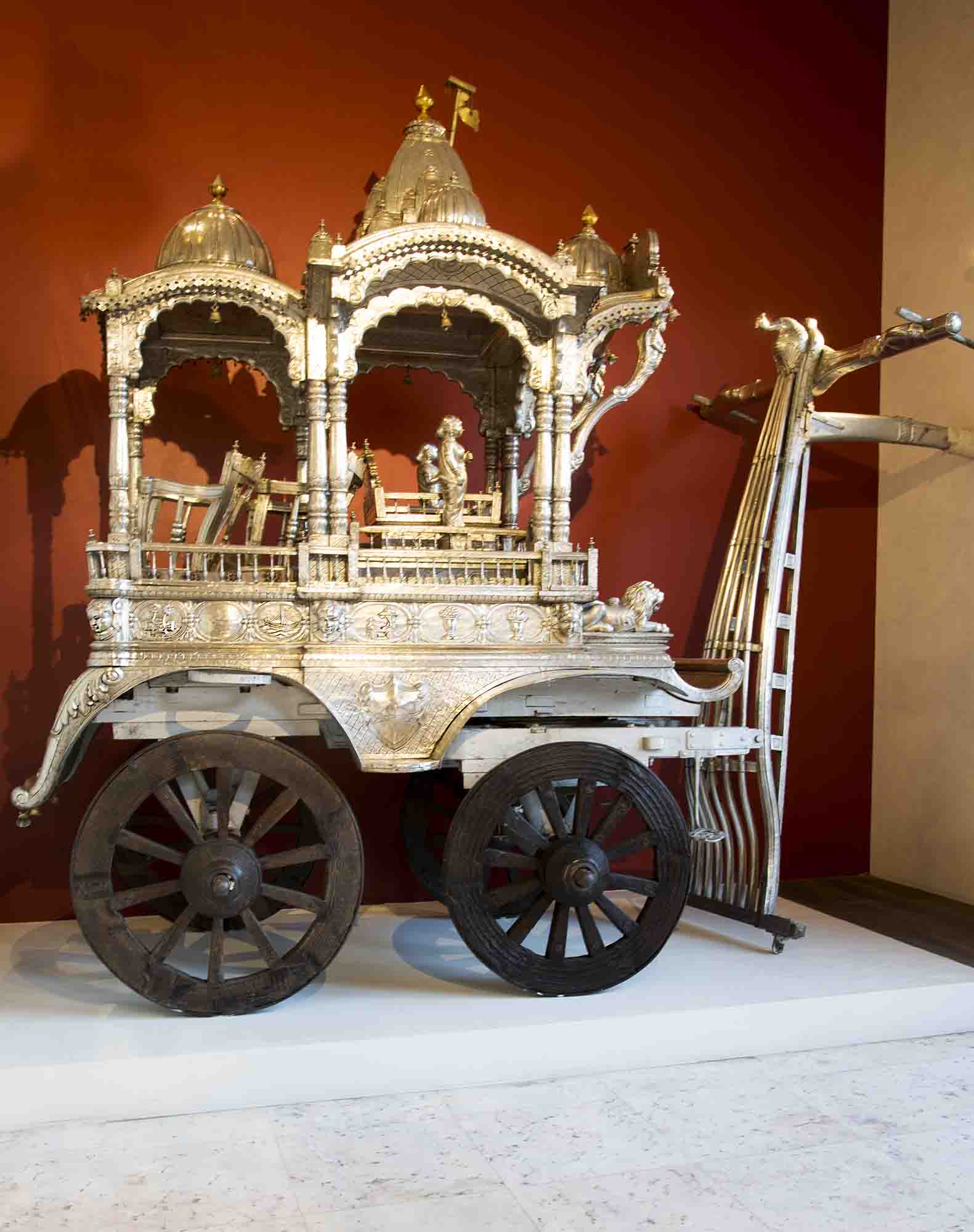 Description of the Image
This chariot is from the mid-20th century, Gujarat, and was used by adherents of the Jain religion. The elaborately carved wooden structure is completely covered with sheets of silver, which have been chased, engraved, and overlaid with repousse work. The base is made from the chassis of a de-motorised jeep, painted silver—leading on to a long harness for animals.
Numerous motifs from religious Jain iconography cover the surface of the chariot, and Nagara-styled temple finials, flags and domes top the entire edifice. 
Image title
Silver coated chariot
Image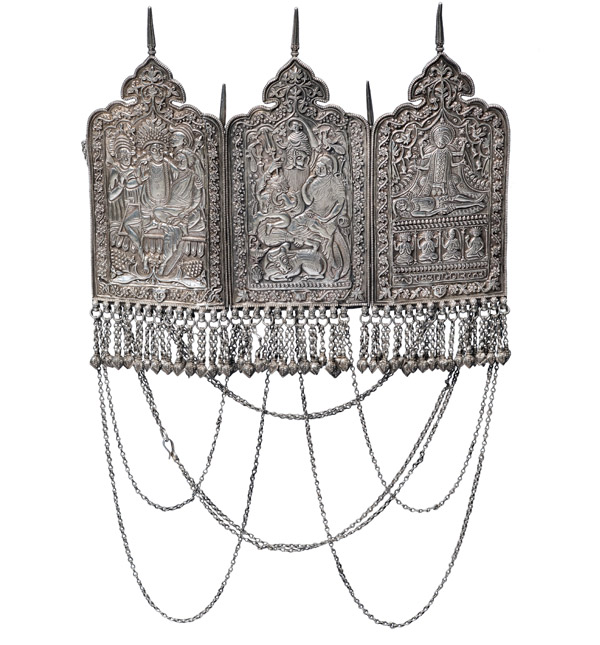 Description of the Image
Silver crowns, comprising a series of hinged panels, were worn around the forehead by grooms during wedding ceremonies in the Punjab and Himachal Pradesh. The crown, here, comprises three repoussed silver panels hinged together, with chains suspended beneath. Each panel is decorated with a deity seated within floral and leafy borders. Each panel is further decorated by a solid-cast leaf finial, as are the hinges between each panel.
The two panels on either end have two silver lugs or hoops on their reverse outer edges, which were used to secure the crown to the head.
Image title
'Umlakh' (groom's crown)
Image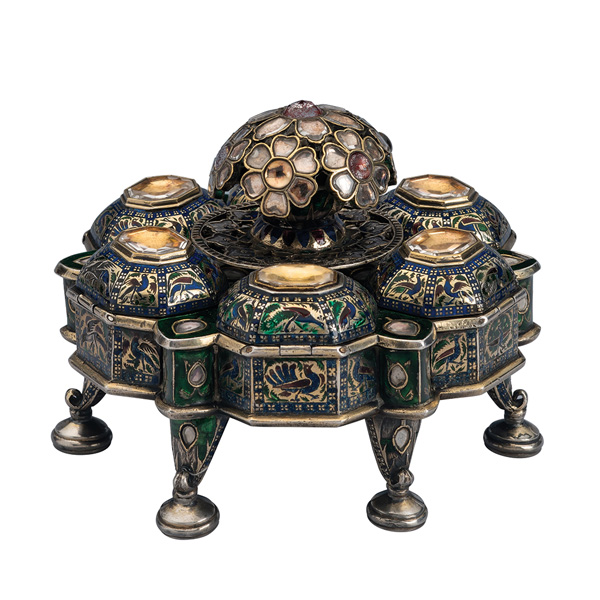 Description of the Image
This spice box is made of silver-gilt, set with crystals, and enamelled in translucent blue, mulberry and green. It comprises of six outer hexagonal sections, and a central section on top of which is a cluster of white stones resembling flowers in a vase.
Image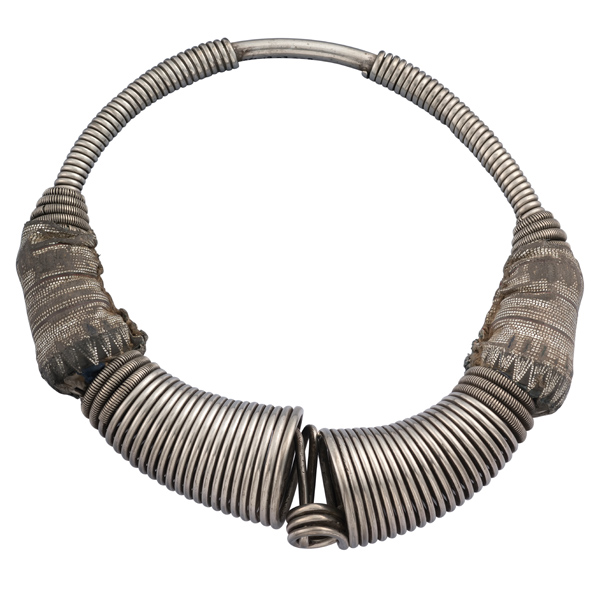 Description of the Image
This torque is made of continuously spiralling solid silver-wire, with an increasing gauge towards the opening, and is worn in the front.
The places susceptible to breakage due to frequent opening and closing are strengthened and made more flexible by leather coverings embroidered with silver-wire. Women of the traditionally camel-herding Rabari community, and also the Meghwal community, wear this heavy neck ornament on a daily basis.
Image title
'Hasli' (torque)
Image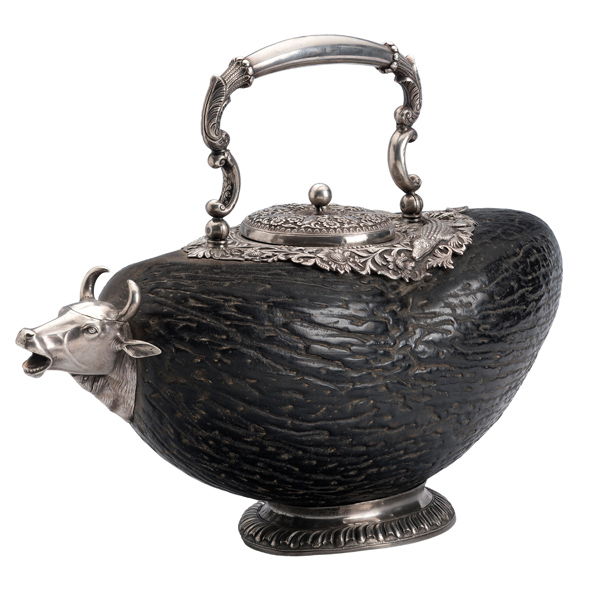 Description of the Image
This flask, with a body made of coco-de-mer, is in the form of a cow, and is known as a goumukhi. It is used to hold and pour holy water from the Ganges. 
Each of the mounts has been formed with exceptional attention to detail. The spout is in the form of an exceptionally realistic cow's head, with horns, prominent ears, teeth, a fringe, a neck covered in loose and wrinkled skin, and even pores on the snout. The silver covering and lidded opening on the back of the vessel follow the natural form of the coco-de-mer, and are beautifully repoussed with deeply wrought flowers and scrolling foliage against a ring-mat background, as is the oval, ring-shaped foot. 
The base is stamped with a well-cut cameo punch with the initials 'O.M.' and the word 'BHUJ.' 
Image title
'Kamandal' (holy water flask)
Image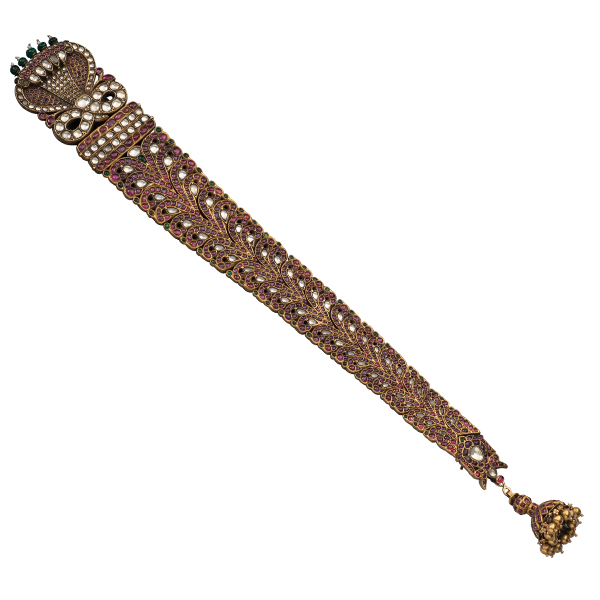 Description of the Image
As a symbol of fertility, the snake form has been incorporated into many ornaments of South India. They were often crafted from sheet gold, or set with gems and strung to take the shape of a plait.
This jadai nagam is a composite piece made up of several elements. Right on the top is the nagar, a large cobra-head form, set with precious and semi-precious stones.
Below this is the long jadai in the shape of a tapering plait, ending in a tassel tied at the lower end, which prevents the plait from unravelling.
Image title
'Jadai Nagam' (braid ornament)
Image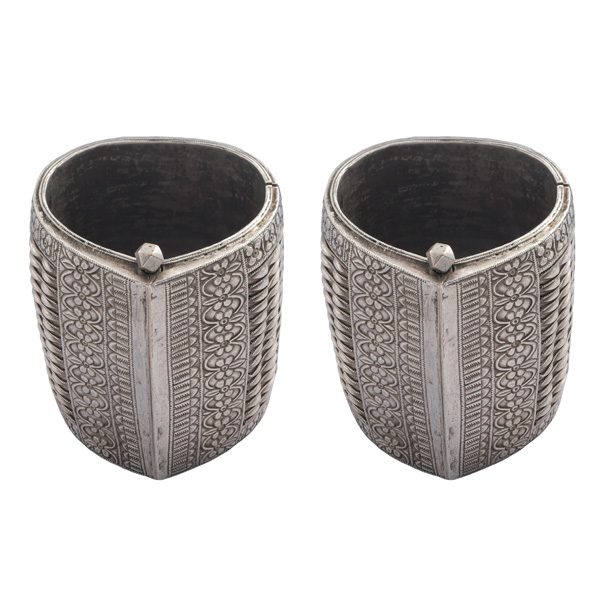 Description of the Image
These cuff bracelets, locally known as gamkharu, are from Assam. They are made with silver sheets decorated with geometrical pattern throughout, and floral patterns on the borders. The silver sheets are hammered into the shape of a leaf. When worn, one-fourth of the silver sheet comes out through a pin clasp.
Image title
'Gamkharu' (cuff bracelets)
Entry fee information
Rs 600/-
Children below 12 years of age are free.
Opening Days
Monday
Tuesday
Wednesday
Thursday
Friday
Saturday