Museum Address
Founder House, AMU Campus, Aligarh, Uttar Pradesh 202001

Email
academysirsyed@gmail.com
Museum website
https://www.amu.ac.in/ssacademy.jsp?did=10019
Are there any docents or guides who visitors can directly call to book for a guided tour?
No
When was the museum established?
1974
Briefly describe the history of the museum, its collection and donors.
Sir Syed Academy Museum is a popular art gallery and museum housing the personalia of Sir Syed Ahmad Khan. The Sir Syed Academy has the historical importance of being the residential place of the late founder of the Aligarh Muslim University, Sir Syed Ahmad Khan. The building - located within the Aligarh Muslim Univeristy campus -  was bought by Syed Mahmood, Sir Syed Ahmed Khan's son, in 1876, for the residence of his father , who lived here for 22 years. Syed Mahmood was himself the first judge of independent India and the co-founder of Sir Syed Academy. 
The art gallery came into existence in October 1974 with an aim to spread awareness about Sir Syed Ahmed Khan's contribution to educational and social reforms. The museum also showcases personal belongings of the founder and chronological account of the Aligarh Muslim University in form of pictures and literal records. 
The museum is segregated into three main galleries. The first gallery illustrates introductory life events of Sir Syed Ahmad Khan and his companions. The second gallery features description of various stages of  the Aligarh Muslim Univeristy, earlier called the M.A.O. College,  prior to 1920.The last gallery has pictures of university's campus building. Besides, an art gallery also maintains archives displaying the university's activities and achievements over the years.

Different types of exhibitions and workshops take place at the museum. A 3-day exhibition - showing paintings and writings of and about Sir Syed Ahmad Khan - is organized annually on the occasion of the birthday of Sir Syed Ahmad Khan, which draws anywhere between 7000-8000 people. 
Information in Braille
No
Workshops/seminars/lectures
Yes
Library and archives services
Yes
IT facilities ( Photocopying, printing, computer )
No
Conference/ Seminar hall
Yes
Who manages the museum?
Others
Email
academysirsyed@gmail.com
Others:
Aligarh Muslim University
Person-in-charge of the museum
Director
First Name
Prof. Ali Mohammad
Reference Link
Syed Hussain Haider (Archaeologist)
What is the average duration to see the museum?
less than 1 hour
Is the museum currently closed?
No
Image for museum exterior/building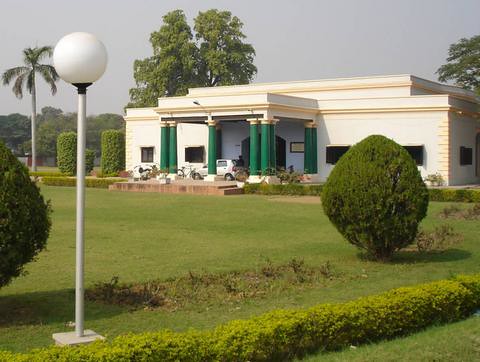 Opening Days
Monday
Tuesday
Wednesday
Thursday
Friday
Saturday
Other Information
1:30 pm to 2:30 pm
a. Helpfulness (guides, guards, curator, director)
Great
b. Approachability (curator, director)
Above average
c. Washrooms
Above average
Name of Museum Surveyor
Priyanka Varaney