Museum Address
Baudhasree Archaeological Museum, Opposite A.C. College, Guntur, Andhra Pradesh - 522004
Museum website
http://aparchmuseums.nic.in/?page_id=1022
When was the museum established?
1992
Briefly describe the history of the museum, its collection and donors.
The Baudashree Archaeological Museum, located in the town of Guntur, has collections including Buddhist sculptures, a limestone statue of Buddha, rock-cut sculptures relocated from Sekuru, Divuladinne and Amudalapalle, bronze and copper plates, palm leaf manuscripts, coins, paintings and prehistoric artefacts. 
In May 1956, S. Bhagwan Das, a collector, established Buddha Vihar in the town of Guntur, and was subsequently converted into a museum in 1975. However, in 1977, the cyclone that had devastated Diviseema severely damaged the museum and repairs had to be made. Another major construction was done in 1992, when a new building was set up where the artefacts were moved. Currently maintained by the Department of Archaeology and Museums of Andhra Pradesh the museum was renamed as Baudhasree Archaeological Museum. 
Who manages the museum?
State Government
Reference Link
http://aparchmuseums.nic.in/?page_id=1022
Is the museum currently closed?
No
Image for museum exterior/building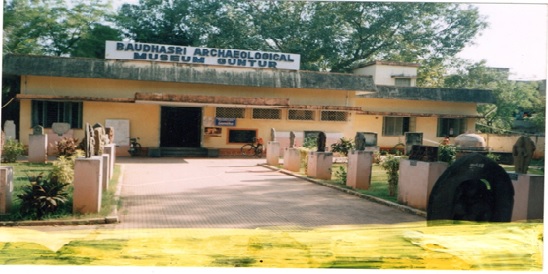 Entry fee information
Rs.3 for adults
Rs.1 for children
Opening Days
Sunday
Monday
Tuesday
Wednesday
Thursday
Saturday