Museum Address
Archaeological Museum, Nagarjunakonda, P.O. Vijyapuri South, Guntur District, Andhra Pradesh - 522439
Email
museumnagarjunakondaasi@gmail.com
Museum website
https://asi.nic.in/museum-nagarjunakonda/
When was the museum established?
1966
Briefly describe the history of the museum, its collection and donors.
In colonial India of the 1920s, Nagarjunakonda became a site of significance for archaeologists. The area, which had hitherto been cut-off by the Nallamalai range, was now subject to archaeological excavations and research. Projects involving the preservation of Buddhist sculptures and monuments retrieved from Mahayana Buddhist and Hindu shrines were undertaken in this town (which was named after Nagarjuna, the Buddhist scholar responsible for the genesis of the Mahayana strain of Buddhism). However, there was a predicament regarding the relocation of the sculptures. British archaeologist, Leonard Woolley, in his 1939 report on the working of the Archaeological Survey of India questioned whether it would be prudent to retain the sculptures at the site since Nagarjunakonda was not well-connected to the city, thereby not easily accessible to the public. There was opposition to this suggestion but in 1944, Mortimer Wheeler the then director general of the ASI, suggested that the sculptures be relocated either to the Indian Museum, Calcutta or to the Government Museum, Madras. Officers within the ASI resisted and even though sculptures were subsequently relocated the research continued onsite.
Disaster struck in 1960, when the artefacts came under the threat of being submerged because of the construction of the Nagarjuna Sagar Dam. With the original site underwater the relics were moved to a higher land on the hill. It was in 1966 that the museum was built on the island town, located in the vicinity of a medieval fort.
The museum, designed in the style of Buddhist Viharas, displays the Buddhist, Palaeolithic and Neolithic artefacts and ruins that were discovered during these excavations. There are five galleries that display carved limestone slabs, sculptures, inscriptions and other antiquities from the 3rd and 4th century AD. In one of the galleries, museum-goers can view ayaka-slabs, panels tracing the evolution of human civilisation, terracotta and stucco statues and coins and art from the museum's Ishvaku collection.
Another gallery exhibits the architectural components of stupas and the Buddhist narratives (which includes chronicles of Buddha's life, miracles performed, episodes from Jataka, to name a few) relayed in the art that decorated them. While models of the submerged valley are displayed amongst other miniature renditions of historic architecture in a third gallery. Epigraphs and inscriptions on pillars in Brahmi, Prakrit and Sanskrit are housed in the museum too. Some of the exhibits of key importance include a memorial pillar depicting King Vasishthiputra Chamtamula, a  Sanskrit inscription on a pillar invoking god Pushpabhadrasvamin, inscriptions of  Vijaya Satakarni and a Telugu inscription issued by king Purushottama of Orissa. The Archaeological Museum, Nagarjunakonda houses most of the the excavated artefacts from Nagrajunakonda but some are also scattered over museums in Delhi, Chennai, Kolkata, Paris and New York.
Who manages the museum?
ASI
Reference Link
https://asi.nic.in/museum-nagarjunakonda/
Is the museum currently closed?
No
Image for museum exterior/building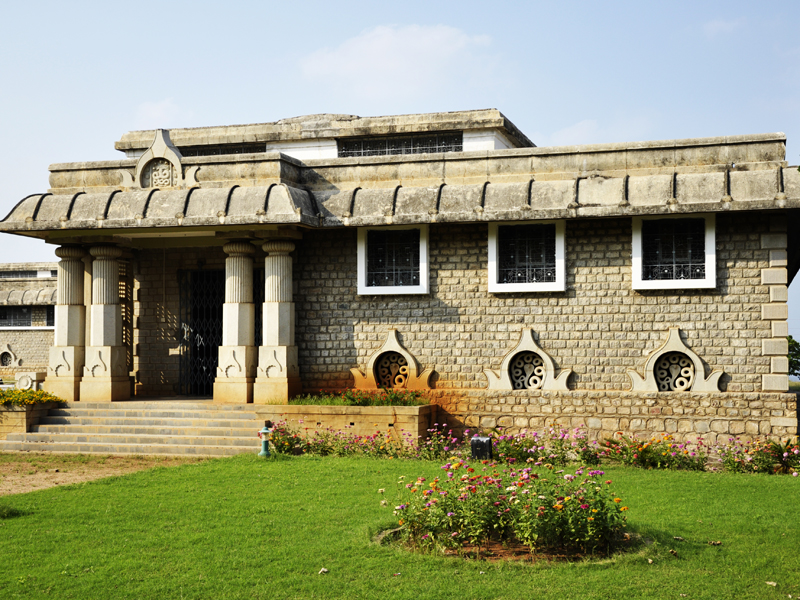 Entry fee information
Rs. 5 for adults
Free for children below 15 years
Opening Days
Sunday
Monday
Tuesday
Wednesday
Thursday
Saturday
Name of Museum Surveyor
Anna Dasgupta