Museum Address
Sri K. S .R. District Archaeological Museum, Anantapur Town, D.R.D.A. Complex, Anantpur District
Museum website
http://aparchmuseums.nic.in/?page_id=1005
When was the museum established?
1992
Briefly describe the history of the museum, its collection and donors.
Made open to the public in October 1992, the Sri K. S .R. District Archaeological Museum, Anantapur functions from a government building named after Sri Padmasree Kalluru Subba Rao, a renowned freedom fighter. This museum was established in order to amass the archaeological elements of Anantpur and the allied areas. Interested people can visit the museum to relish the historical sculptures, paintings, bidri ware, arms and weapons, bronzes, coins, stampages, copperplate epigraphs, stone, tool, celadon wares and enameled wares.
The fifty odd stone sculptures that are housed in the museum can be dated from the 3rd century AD to the 18th century AD.  Along with the sculptures, antiquities from pre-historic times to the twentieth century are also displayed in glass showcases. These artefacts found their place in the museum after being collected from excavations, surveys and museum exchanges.
Who manages the museum?
State Government
Reference Link
http://aparchmuseums.nic.in/?page_id=1005
Is the museum currently closed?
No
Image for museum exterior/building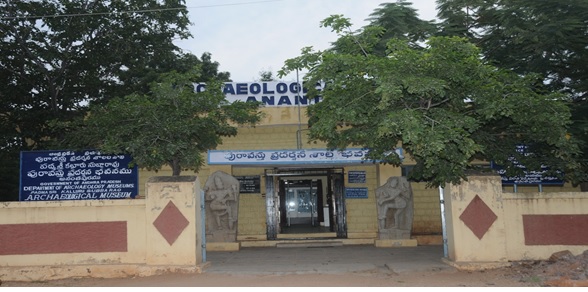 Entry fee information
Rs.3/- for adults
Rs.1/- for children
Opening Days
Sunday
Monday
Tuesday
Wednesday
Thursday
Saturday