Museum Address
Alipiri-Zoo Park Road, near Alipiri gate Tirupati-517507
Email
rscentretrp@bsnl.in
Museum website
http://www.rsctirupati.org.in/en/home/
When was the museum established?
1993
Briefly describe the history of the museum, its collection and donors.
The Regional Science Centre at Tirupati was set up in 1993 to facilitate various forms of experiential education in science. The museum is a member of the National Council of Science Museums (Ministry of Culture, Government of India) and comes under the administration of Visvesvaraya Industrial and Technological Museum, Bangalore. 
It has six exhibition galleries viz. 'Fun Science', which has interactive experiments explaining scientific concepts; 'Popular Science', which includes exhibits on electricity, heat, magnetism, light sound etc; 'Our Universe' which encourages questions on the nature and composition of the universe; 'Our Senses' which illustrates the role of the sensory organs in perceiving external reality; 'Illusion' which has multi-sensory illusions as part of an immersive experience and 'Emerging Technology' which records the new developments in science and technology and the importance of their application in fields like ocean technology, space technology, biotechnology and so on.
There is also an outdoor science park which has a herbal garden with medicinal plants , an animal corner and a prehistoric life park which is composed of models of different dinosaurs. Other attractions include a model of the Large Hadron Collider that creates a simulation of the Big Bang, a 3D theatre and science shows. The museum regularly organises educational programmes, sky observation sessions, film screening and lectures.
The museum is also responsible for the functioning of a mobile science exhibition, which makes the exhibits widely accessible. It has twenty working exhibits that travel to rural areas of the state. Science shows and informative lectures are also a part of this mobile museum.
Who manages the museum?
Central Government
Reference Link
http://www.rsctirupati.org.in/en/home/
Is the museum currently closed?
No
Image for museum exterior/building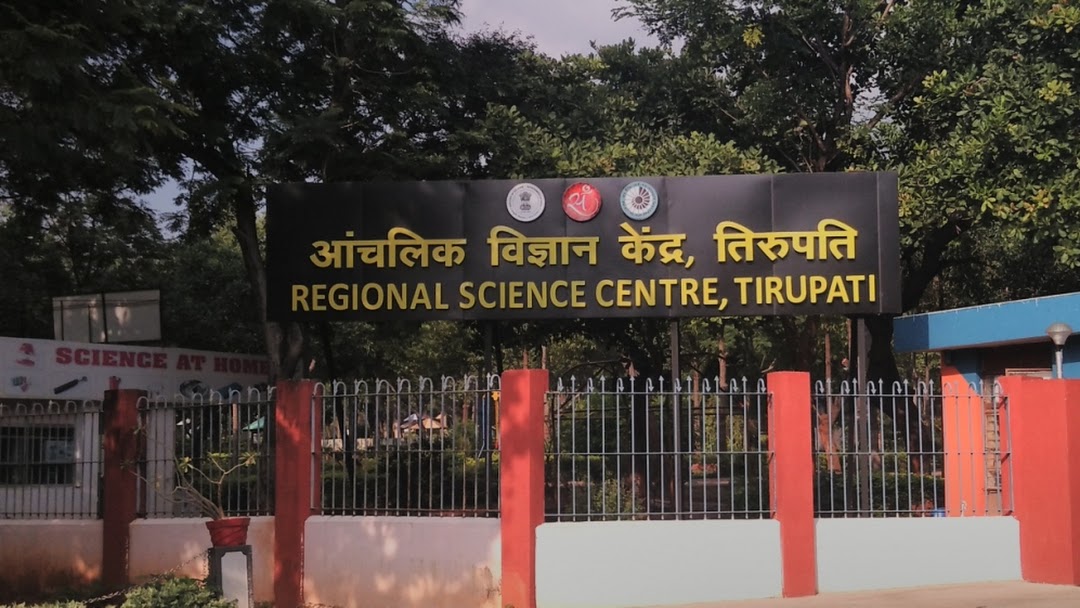 Entry fee information
Rs. 30
Opening Days
Sunday
Monday
Tuesday
Wednesday
Thursday
Friday
Saturday