Museum Address
Near Navabramha temple complex, Alampur, Telangana, 509152
Museum website
https://heritage.telangana.gov.in/museums/alampur-site-museum/
When was the museum established?
1952
Briefly describe the history of the museum, its collection and donors.
The Alampur Site Museum, established in 1952, has a vast collection of sculptures and archaeological artefacts. Situated in Mahabubnagar, where the 7th-century Navabramha temples stood, the museum's collection has stone sculptures and inscriptional slabs that originally belonged to these temples. The artefacts come from all periods of time and serve as historical fragments of the Kakatiya, Chalukya and Vijayanagara periods. The 11th century polished black stone pieces from the Kakatiya period, a sculpture of Nagnaka Bhanda, Kakatiya ceiling panels, panels depicting Shiva with Asthtadikpalas, sculptures of Nataraja and many more artefacts are housed in the museum. Some of the granite pieces like Nandi, Nataraja, Mahishasura Mardini, Surya, Kartikeya, and Naga have been part of temporary exhibitions in London, Germany and Paris.
 
Who manages the museum?
State Government
Additional information ( if any)
Rs. 10 for adults Rs. 5 for children
Reference Link
https://heritage.telangana.gov.in/museums/alampur-site-museum/
Is the museum currently closed?
No
Image for museum exterior/building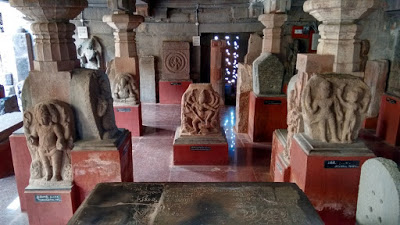 Opening Days
Sunday
Monday
Tuesday
Wednesday
Thursday
Saturday