Museum Address
S.V. Museum on Temple Art, T.T. Devasthanams, 223, G. N. Mada Street, Tirupati - 517501
Museum website
https://www.tirumala.org/S.V.%20Museum.aspx
When was the museum established?
1983
Briefly describe the history of the museum, its collection and donors.
Established in 1983, the S.V. Museum on Temple Art is located in the edifice in Tirumala. It used to formerly function as the Kacheri Nammalwar temple. Under the management of Tirumala Tirupati Devasthanams (TTD), it has now been converted into a museum of temple art which records the methods and traditions of temple construction and the various rituals associated with it. Historically, temples have not only been sites of religious expression but also sites where cultural, social, economical and educational engagements are made. The museum is dedicated to recording these traditions and is divided into two sections.
The first section traces the processes involved in the construction of a temple, from the technical architectural planning to the application of Vaastu Shaastra.  It records how temples are established, how the foundation is made, the art involved in the construction of pillars and steps, the logic behind choosing the measurements of the structure etc. The museum also has a stone gallery which contains many artefacts from the 8th century AD to the 19th century AD. These include objects related to Vaishnavism and musical instruments.  
The second section of the museum stores the  Srivari Vahanams (Vishnu's vehicle) used during Brahmotsavam processions. The exhibits in this section include a display on the mudras of Bharatnatyam, the one hundred and eight Divyakshetras or holy places for Vaishnavites and the art of Kalamkari. With an investment in recording and archiving Vedic traditions, the museum also has a library on art, history and culture. 
Who manages the museum?
Religious Organization
Reference Link
https://www.tirumala.org/S.V.%20Museum.aspx
Is the museum currently closed?
No
Image for museum exterior/building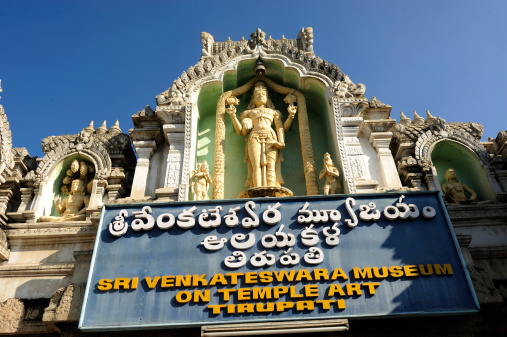 Opening Days
Sunday
Monday
Tuesday
Wednesday
Thursday
Friday
Saturday