Description
Although art history is long sustained, exhibition history is a very small but rapidly expanding part thereof. Aditi's lecture will focus on the histories of display culture as an extension of the history of art. The presentation will predominantly address the definition, types and purpose of exhibitions
through history apart from questions such as: How have exhibitions and their design evolved? What have their socio – cultural connotations been? What is a white cube? What is curation and the what role does it play in exhibition histories?
With a Bachelors in Architecture from S.C.E.T, Surat and an M.A. in History of Art from the University of Nottingham, United Kingdom, Aditi Rakhe has been involved with a diverse set of exhibitions across India and the U.K. as a curator, exhibition designer & manager. Her professional journey
started on foreign grounds with the Crop Up Gallery (University of Nottingham) & The Aftermath Project x Nottingham Contemporary in the U.K. but eventually led back to her roots in India where she worked with the Museum of Goa as a Museum Coordinator, Co-curator and Project Manager for
the Goa Affordable Art Festival 2018. Subsequently, she joined TIFA Working Studios, Pune, as a Programmes Manager & was the Festival curator for the Futures of Sexuality Festival 2019. She presently works as a Project Coordinator (Museums of India) at Sahapedia.
Image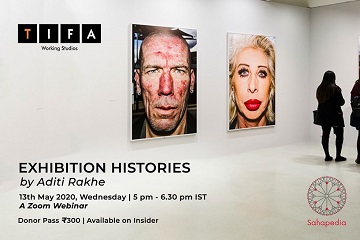 Organizer
TIFA Working Studios