Description
Although experiencing museums cannot be separated from their physicality, with the onset of COVID-19, museums are rapidly moving away from the tactile towards digitality. Join us for a virtual panel between museum professionals tackling the questions about accessibility in Post COVID Museums and how they will be experienced. The panel will also focus on how social media and online platforms can be used as tools to improve accessibility and inclusivity in the museum sector while at the same time discussing the importance of physical experiences. As museums develop resources using virtual displays and online experiences, the conference addresses subjects such as audience diversification, geography non-specific audience building, language inclusion on predominantly English online platforms and the changing nature of the museum experience.

Panellists:

Alisha Sadikot
Alisha Sadikot uses walking tours as a tool to encourage creative and critical public engagement with Mumbai's urban histories, art and museum collections. Her practice focuses on broadening art, museum and heritage conversations through the Inheritage Project (since 2015) and Art Walks Mumbai, which she co-founded with fellow art and walking enthusiast, Nishita Zachariah in 2017. Formerly, Alisha was Curator, Education & Outreach, at the Dr. Bhau Daji Lad Mumbai City Museum from 2012 to 2015 where she helped develop the museum's popular learning programme.

Dr. Alka Pande
Dr Alka Pande is an art historian who taught Indian Arts and Aesthetics at Panjab University for more than ten years. Dr Pande, under the aegis of the Charles Wallace India Trust, conducted postdoctoral research in critical art theory at Goldsmiths, University of London. She has been felicitated with the various honours for distinguished contribution to art including Knight of the Order of Arts and Letters by French Government (2006), Australian-India Council Special Award (2009), L'Oreal Paris Femina Women under Design and Arts (2015), Amrita Sher-Gil Samman (2015), to name a few. Currently, Dr Pande is a consultant art advisor and curator of the Visual Arts Gallery, India Habitat Centre, New Delhi (India).

Amardeep Behl
As a designer, Amardeep Behl has been passionately involved in finding expression, working with space. Drawing from a wide range of media from traditional storytelling techniques, props, sets and dioramas, to films, interactive and other multimedia, his work is a journey towards finding and creating an Indian expression of design- an expression strongly rooted in its culture and traditions and is applicable in the contemporary times. Having majored in Exhibition Design at the Department of Visual Communication of The National Institute of Design in Ahmedabad, India, he founded the design firm, Oriole Design and later, his present firm, Design Habit.

Madan Meena
Madan Meena is a visual artist and researcher. He has worked extensively with artists and craftspersons from local communities in Rajasthan and Gujarat. His doctoral dissertation was on wall paintings done by the Meena women which he has exhibited across the country and Abroad. He has published two books on the subject, Joy of Creativity and Nurturing Walls. As a curator, he has designed an exhibition on brooms for the 'Arna Jharna Museum' of Rupayan Sansthan in Jodhpur and was also Associate Director for the film 'Jharu Katha' on the same subject. Madan is a trustee of Bhasha Research and Publication Centre-Vadodara and Executive Member of Kota Heritage Society. After joining Adivasi Academy in Gujarat as an Honorary Director he is trying to restore the sustainable models which have been damaged by the modernized development.
Image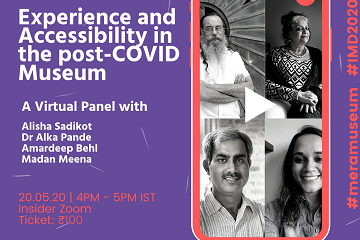 Organizer
Museums of India